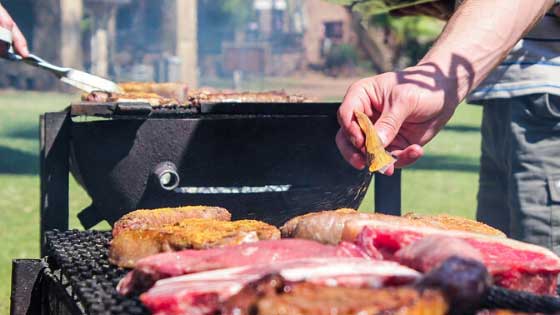 Moving into a new setting can be stressful, particularly if you don't know anyone. Flagstaff is known for some beautiful weather, so why not use that to your advantage to make some delicious food and new friends at the same time? Many apartments in Flagstaff are designed to have gorgeous, functional outdoor space to really take in the beauty of the area with friends and family. If you want to make use of communal spaces this year to turn some neighbors into friends, we've put together a list of essentials that will make introductions a snap.
Patio Party Essentials
Throwing together a quick backyard barbecue is about more than just being open to neighbors dropping by—you want to make your event inviting, fun, and interesting.
Make sure you have more than enough food.
You never know if your neighbors will stop by, and if they do, who they might have with them. Load up on cheap, simple foods for the grill that most people will find appealing:
Hot dogs
Burgers
Bratwurst
Sandwich-cut rib-eyes
Chips
Desserts
You don't need to make fancy foods—just something to munch on while mingling is all it takes, and you don't want to break the bank, either. Even with buns and condiments, you can feed quite a few people with just some of the foods listed above and have plenty left over (or in case your neighbors have all their loved ones in town for some reason).
Music
Most community spaces in apartment complexes have accessible outlets, so have some great music going at a reasonable volume. Top 40 is always a good choice, as there's almost always something for everyone playing. It also gives the impression that your gathering is open.
Friends
The best way to draw people in is to have some people already having fun. Invite a few of your good friends to break the ice and make mingling easier.
Food makes friends.
If you want to make the best impression in an inviting community setting, our University Square apartments in Flagstaff have a sprawling, beautiful courtyard at your disposal. If the comfortable, inviting landscaping and grills make you want to plan your own patio party, you can see what spaces University Square has available right now.