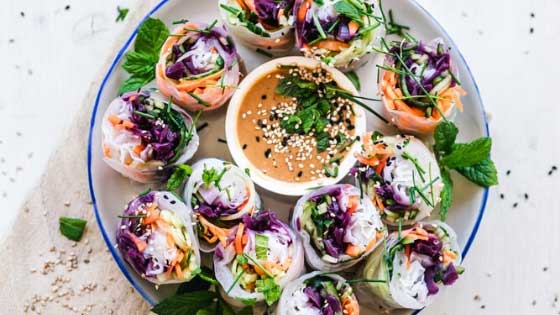 Pleasing the crowd can be a little tricky when you have guests who hail from different dietary needs and desires. Fortunately, it's not difficult to make vegetarian-friendly appetizers that are sure to please the entire room. The team at our Flagstaff, AZ apartment community did a little digging, and we came up with the following treats you should try!
1. Mediterranean Pinwheels
Put tortilla shells to a new use by incorporating cream cheese and sun-dried tomatoes into the mix. These Mediterranean pinwheels are great snacks for kids after school, appetizers when you've got a hungry crowd waiting for entrees, or before-bed snacks.
2. Slow Cooker Sweet and Spicy Vegan Meatballs
Don't let the name fool you; vegan "meatballs" are meat-free and fun for everyone at the party. The great part about these party favors is that they can easily be eaten with a toothpick, making them perfect for large groups who will make a lot of small talk.
3. Vegetarian Wonton Bites
Pre-made wonton wrappers can make wonderful appetizers, especially when they're filled with fresh veggies and hummus. After the cups have been placed in muffin tins and baked, they turn into cups that hold your guests' eats effortlessly.
4. Deep-Fried Deviled Eggs
Some vegetarians still eat eggs. If that's the case for your friends or family members, this deep-fried deviled egg recipe might be right up their alley. Panko breadcrumbs make all the difference, giving ordinary eggs an extraordinary crunch. A teaspoon of hot sauce is all you need to top off your traditional side and turn it into an unforgettable appetizer.
5. Tofu Banh Mi Sliders
Let firm tofu take the place of meat in this recipe, transitioning a plain old bun into a handful of fun.
If you're searching for a Flagstaff apartment where you can feel free to get crafty in the kitchen, you needn't look further. Schedule a personal tour so you can take a look around our University Square Apartment Homes!