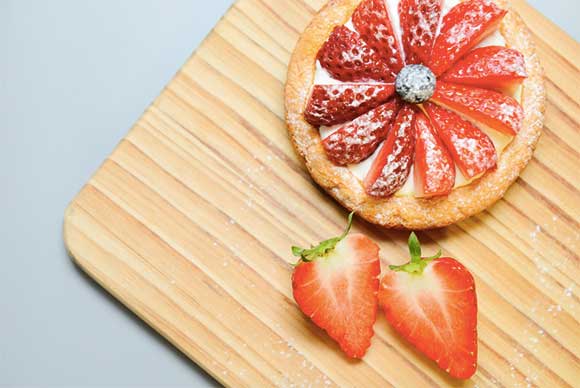 Many of us crave the taste of something fresh and cool when we come in from a day in the Arizona sun. The following delicious summer recipes will be the perfect sweet treat to cool off with. Hopefully our University Square apartments residents will love these summer desserts!
Three Delicious and Cool Dessert Recipes
Fruit Pizza
You can enjoy a delicious dessert that is only around 170 calories per slice. We love the combination of various fruit flavors and the colorful eye appeal.
Ingredients
1 cup all-purpose flour
½ cup cubed cold butter
¼ cup confectioner's sugar
1 tsp. lemon juice
1 ¼ cup pineapple juice, unsweetened
5 tsp. cornstarch
1 8-oz. package of reduced-fat cream cheese
1 11-oz. can of mandarin oranges, drained
1/3 cup sugar
1 cup fresh blueberries
2 cups fresh strawberries cut in half
1 tsp. vanilla extract
First, preheat your oven to 350 degrees. Next, mix your flour and confectioners' sugar in a large bowl. Cut in your butter until the mixture turns crumbly. Press it onto an ungreased 12-inch pizza pan and bake for 10–12 minutes until browned. Let the pastry cool separately on a wire rack.
Next, mix the cornstarch, pineapple juice and lemon juice until smooth in a small saucepan, bringing it to a boil. Cook for about 2 minutes until thickened; then let the glaze cool slightly. Next, beat your sugar, cream cheese and vanilla until smooth; then spread the mixture over the crust. Place your fruit on top and dribble with your glaze and refrigerate your pizza until it is cold.
Key Lime Pie
Add a little tropical flavor to your day by making a no-bake Key lime pie.
Ingredients
1 package of sugar-free gelatin
1 graham cracker crust
2 cartons Key lime yogurt
1 container whipped topping
¼ cup boiling water
Add the boiling water to your gelatin and stir until it is completely dissolved. Whisk in the yogurt; then fold in the whipped topping. Pour the entire mixture into the crust and refrigerate for around 2 hours until it sets.
Chilled Berry Yogurt Swirls
The great thing about these pops is that you can eat them at home or take them out with you as a snack.
Ingredients
2 ¾ cups honey Greek yogurt
¼ cup water
1 cup fresh mixed berries
2 tbsp. sugar
10 wooden pop sticks
10 3-oz. paper or plastic cups
Fill each cup with 1/4 cup of yogurt. Next, place the berries, sugar, and water in a food processor and pulse until finely chopped. Spoon in around a tablespoon of the mixture into your cup; then swirl with a pop stick. Place a foil on top of each cup; then insert a pop stick through the foil. Freeze the pops until they harden.
Let us know how your attempts at these recipes turned out by calling University Square apartments at (844) 795-6793.